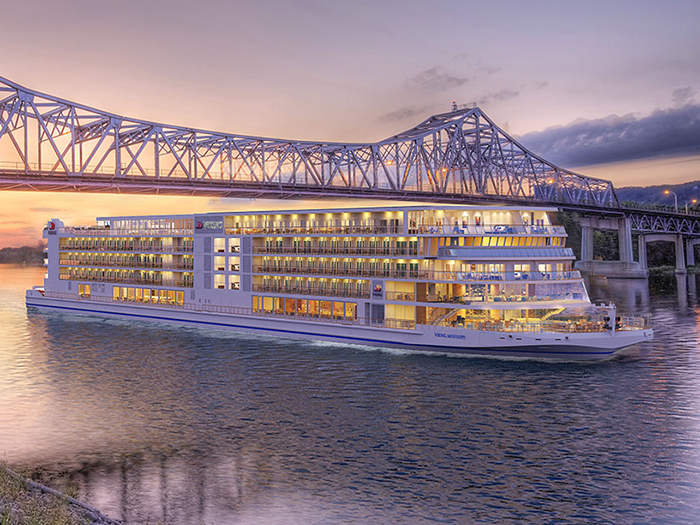 VIDEO: Viking Responds to Strong Demand for Mississippi Cruises
Viking River Cruises announces that new 2023 crossings of its Mississippi River Cruises are now on sale. The company's first custom ship, viking mississippi, currently under construction at an Edison Chouest Offshore Group shipyard in Louisiana, is scheduled to debut in August 2022 and will make voyages on the lower and upper Mississippi, between New Orleans and St. Paul.
Accommodating 386 guests in 193 all-outboard cabins, the new state-of-the-art, Jones Law-compliant cabin, viking mississippi is inspired by Viking's award-winning river and ocean vessels and will feature a clean Scandinavian design, as well as public spaces that have been redesigned for travel on the Mississippi River. Designed specifically for Mississippi, the ship's cutting-edge five-deck design, wide windows and comfortable amenities will make it, according to Viking, the most modern cruise ship in the region. It will also be, according to Viking, the most environmentally friendly passenger vessel on the Mississippi River. In addition to a hybrid propulsion solution, sustainability features will include solar panels, LED lighting and floor-to-ceiling windows that maximize natural light
Viking's first river cruises in the United States were highly anticipated when they were officially announced in April 2020, and several cruises have already sold out. This strong demand has led Viking to open additional sailing dates in 2023 earlier than originally planned.
"We are very pleased with the initial response and support we have received from guests and community partners along the Mississippi River," said Torstein Hagen, president of Viking. "Like me, many travelers are planning ahead for when we will explore the world in comfort again – to exotic destinations as well as to destinations closer to home. We look forward to welcoming guests as we are bringing modern river cruising to the Mississippi River in 2022."
Viking's arrival on the Mississippi will mark a major commitment to tourism and economic development in many communities along the river, with new cruises expected to bring more than 5,800 passengers to the region in 2022 and more than 17,600 in the during the first full sailing season in 2023. Ports of call currently scheduled on Viking's new Mississippi cruises include seven US states: Louisiana (Baton Rouge, Darrow, New Orleans and St. Francisville); Mississippi (Natchez and Vicksburg); Tennessee (Memphis); Missouri (Hannibal, St. Louis); Iowa (Burlington, Dubuque and Davenport); Wisconsin (La Crosse); and Minnesota (Red Wing, St. Paul).