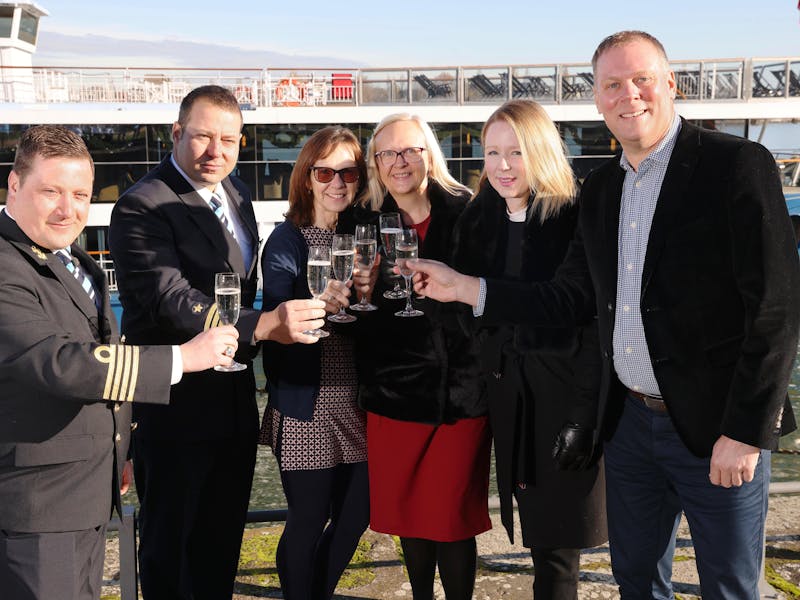 TUI River Cruises christens its newest ship, the TUI Skyla
(1645 GMT) — TUI Skyla, the second ship in the TUI River Cruises fleet has been officially christened before embarking on its first Mistletoe & Rhine route today.
The christening ceremony, complete with the traditional champagne smash, was presided over by company captain Marco Menke and the godmother, university examination officer Catherine Hawkins (illustrated).
Festive sailing on TUI Skyla will stop in some of Germany's best-known cities including Cologne, Dusseldorf and Koblenz, hopefully including the Christmas markets.
There is a big question mark over whether German markets will go ahead as more river cruise lines cancel itineraries as Austria goes into lockdown.
On board, the ship will include Christmas activities, mulled wine and regional Christmas dishes on board.
This is the line's second river cruise fleet to be launched; TUI Maya was christened in Mainz, Germany with pyrotechnics and a champagne smash in August. TUI Isla will join the fleet next spring.
Chris Hackney, Managing Director of Cruise TUI UK&I, said: "We are delighted to welcome the second ship to the TUI River Cruises fleet on our first festive sail of the year. Since going on sale, we have seen continued growth in demand for TUI Skyla Danube Routes with Danube Treasures leading the way in sales."
Hackney said winter and Christmas cruises continue to be hugely popular with customers with high demand for the winter and holiday season.