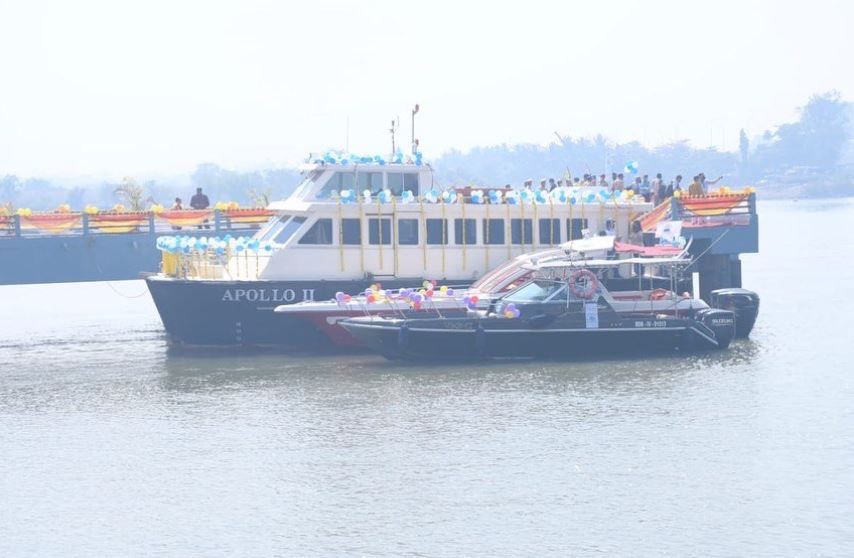 The water taxi service between Mumbai and Navi Mumbai started today. Check, Directions, Rates, All Details
Mumbai: Mumbai residents received a much-awaited gift on Thursday when Maharashtra Chief Minister Uddhav Thackeray inaugurated India's first water taxi service between the city and Navi Mumbai. It is for the first time that Mumbai and Navi Mumbai are going to be linked by fast and reliable transport services, which will help reduce travel time between two cities.Also Read – Mumbai Teenager Commits Suicide After Being Denied To Complete Garena Free Fire Game Challenge
"Belapur Jetty and Water Taxi service is now open to citizens, paving the way for a smooth and fast journey with 3 different routes connecting the island city of Mumbai to Navi Mumbai," the Chief Minister's office tweeted. later in the day. Also Read – First Look: New Mumbai-Pune Deccan Queen Train Rolls Out From Chennai Coach Factory
Also Read – Yaar Bina Chain Kahan Re: Mumbai Police Honor Golden King Bappi Lahiri | See the tweet
Let us remind readers that the Belapur Jetty project commenced in January 2019 and was completed in September 2021. A total of Rs 8.37 crore was spent on this project implemented under the Sagarmala scheme. This waterway will connect the taxi service to Nerul, Belapur and Elephanta Islands.
Here's everything you need to know about the country's first water taxi service linking Mumbai's east coast to the mainland:
Mumbai water taxi fares
From Domestic Cruise Terminal (DCT) to Belapur by shared water taxi, the fare will be ₹1,210 and vice versa.
From DCT to Dharamtar: Fare – ₹2,000; Duration – 55 minutes
From DCT to JNPT: Fare – ₹200; Duration – 20 minutes
From DCT to Karanja: Fare – ₹ 12.00; Duration – 45 minutes
From DCT to Kanoji Angre: Fare – ₹1,500; Duration – 55 minutes
From Central Business District (CBD), Belapur to Nerul: Fare – ₹1,100; Duration – 30 minutes
From JNPT to Belapur: Fare – ₹800; Duration – 25 minutes
A journey from DCT->JNPT->Elepha->DCT will cost RS 800 and Belapur->JNPT->Elepha->Belapur will cost ₹800 for 35 minutes journey.
Note: All rates above are given on a shared basis, people can also book individual water taxis for special occasions.
Mumbai Water Taxi Service: Passenger Guidelines
Please arrive at least 30 minutes before your departure time
Boarding gates will close 10 minutes before departure.
All passengers are requested to carry a valid photo ID.
Face covering must be worn at all times and social distancing must be maintained.
The ticket will only be valid on the date of travel for the departure slot booked and will not be transferable.
Tickets for passengers arriving after the departure time will be automatically canceled and no refund will be made.
Smoking/spitting/chewing/tobacco is strictly prohibited on the boat
For security reasons, passengers are not permitted to carry weapons, flammable liquids, explosives, corrosives, weapons and ammunition, and other regulated items.
Life jackets are mandatory and crew instructions must be followed at all times.
The transport and consumption of drugs or alcohol on the ship and within the premises of the terminal is strictly prohibited and punishable by law.
Baggage of 10 kg per passenger will be allowed, beyond which will be charged INR 1000 per kg.