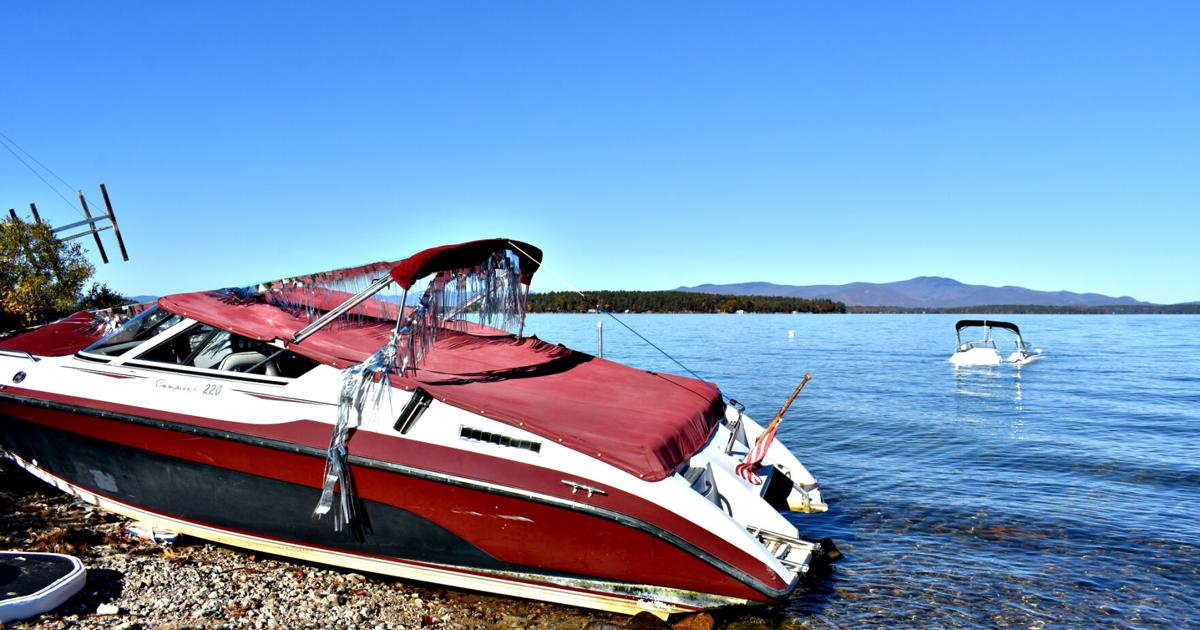 Storm sinks seven end-of-season boats | Local news
[ad_1]
The northeast that struck earlier this week caused most of its damage south of the Lake District, but several boats suffered catastrophic damage.
Marine Patrol Sergeant Nick Haroutanian said most boaters have left for other seasons by the time the nor'easters arrive, but the beautiful weather this fall has prompted some to leave their boats in the water even then. that November is looming.
"The Norwegians, they can be very disastrous, yesterday was one example," Haroutunian said Thursday. At least seven boats had been sunk by the storm or exploded on rocks as of Wednesday, as the storm's winds freed the boats from their docks or moorings. Boats were also damaged on the coast, Haroutunian said.
Most of the locally affected boats were in Gilford and had been secured near the widely open section of the lake known as The Broads.
All of the boats were unmanned, so there were no injuries associated with the damage, and none of them leaked oil or gas, Haroutunian said.
Boat salvage contractors, working with commercial divers, pulled four from the lake on Wednesday and three stayed on Thursday.
Haroutunian said winds were sustained at around 30 miles per hour during the storm. Peter Chiklis, recovery boat captain at Tow Boat US, said he suspected the gusts, especially around 3 a.m., were much higher, in the range of 60 miles per hour.
"It was a northeast wind, coming over the White Mountains and blowing up the lake," Chiklis said. He said a pontoon boat was still on the rocks Thursday afternoon, the deck disconnected from the pontoons.
"All the welds had been torn off," he said.
Just a little west of this boat, near the beach at the Greystone Motor Inn on Scenic Drive in Gilford, one boat was sunk in four feet of water, resting on the rocks, while another had been completely sunk in four feet of water. thrown out of the lake and sat on dry land.
"It's the power of water and wind, the lake just threw the boat down to earth," Chiklis said. He added that the damage should serve as a reminder to people who venture out on the water that the forces of nature should not be underestimated, especially when a storm arrives.
"If they knew what this lake is capable of, they would think twice," Chiklis said.
[ad_2]