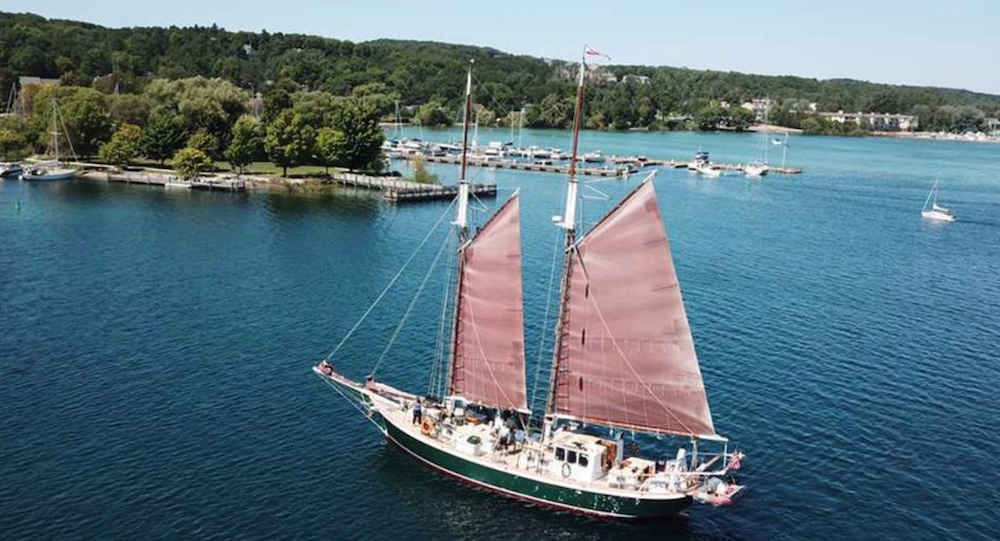 Ship Spotters: 5 of the Biggest, Coolest and Oldest Boats in the North | Features
By Lynda Wheatley | June 11, 2022
Perhaps Ratty said it best: "Believe me, my young friend, there is nothing – absolutely nothing – worth as much as just messing around in boats. Like Mole in Kenneth Grahame's novel The wind in the willows, you can take Ratty's advice as sage advice. There are endless ways to get on the water here, and it doesn't matter if you're at the helm, hitchhiking, or just watching giant ships go by; you have a fleet of options.
Freighters up close (Manistee)
Are you amazed at the size and majestic power of Great Lakes freighters from afar? Be prepared to get closer if you park just about anywhere on the Riverwalk in downtown Manistee. The 1.5 mile boardwalk runs along the canal connecting Lake Michigan to the deep water port of Lake Manistee. This channel, however, is only about 100 feet wide, and you will see how narrow it is as freighters, some up to 70 feet wide and six stories high, glide through it, seemingly a few centimeters from the shores – and the occasional brave kayak or pleasure boat.
Although most places along the Riverwalk are a good place to view passing freighters, we enjoy watching the ships enter the mouth of the channel (access near South Lakeshore Drive) or pass under the two drawbridges from the river: one at Maple Street (conveniently near North Channel Brewing Company) and the other, the US 31 Memorial Bridge at, well… you know. Although freighters in the channel are more frequent in the summer than in the fall or spring, you can focus on sighting times by downloading the Marine Traffic app.
Getting to Pointer (Harbor Springs)
Ultra-rugged and capable of skimming waters as shallow as 6 inches with up to eight men aboard, Pointer boats had been the workhorses of the logging industry since Canadian John Cockburn designed the first in the 1850s. Its on-point design did not change for a century, but the various industries that fell in love with boats certainly did. Count among them the tourist industry in northern Michigan, which in 1948 brought a Pointer built in 1934 to serve as a water taxi across Little Traverse Bay in Harbor Springs. Crafted from white oak and mahogany, with chic, soft blue seats and curtained side windows, the vessel suited her intended passengers – the wealthy summer residents of the exclusive Harbor Point peninsula and guests of the then booming Harbor Point Hotel.
Sadly, after the hotel was razed in 1962, the Pointer was retired, sold several times, and forgotten in a local barn until the death of its then owner prompted its rediscovery in 1988. Locals Marvin Dudley and Stafford Smith purchased the boat that year and, after painstaking processes to restore the boat and bring it up to modern US Coast Guard specifications, have returned to the Pointer's vintage glory. You can find it glistening in the sunshine at its original landing in town, now home to Stafford's Pier Restaurant.
Although not licensed by the USCG to pass through Little Traverse Bay, it can take up to 12 passengers ($32 per ticket) around the Harbor Point and Wequetonsing estates – never more than ¼ mile at the wide – during daily one-hour guided tours. Bonus: you can pre-order food at the Pier Restaurant if you want to have lunch or dinner on the water during your visit. Buy tickets at staffordspier.com or in person at Stafford's Pier Restaurant, 102 E Bay St., Harbor Springs.
Pirates of the Bay-ribbean (Suttons Bay & Traverse City)
It wouldn't be fair to write about ships in the North without mentioning two of our most famous: the Tall Ship Manitou and the Inland Seas Schooner. Two replicas of ancient schooners that sailed the Great Lakes and the Atlantic centuries ago, these multi-sailed vessels offer passengers of all ages options to help the professional crew weigh anchor, hoist sails or even to steer the ship.
Aboard the 77-foot Inland Seas, education is most often the focus, with hands-on science programs literally and figuratively diving into the Great Lakes so passengers can study fish, microorganisms under -sailors and insects using real scientific equipment. But both ships offer specialty cruises of all kinds. Family favorites on the 114-foot Manitou tend to be midday Moomers ice cream cruises and evening entertainment, while dinner or cocktail brunches are best left to adults. Inland Seas most often sails from Suttons Bay, but offers cruises from Discovery Pier on West Grand Traverse Bay in Traverse City, the home port of the Tall Ship Manitou. Learn more about schoolship.org and tallshipsailing.com.
Semper Paratus, Rescue Wannabes (South Haven)
We generally don't recommend hitching a ride on a US Coast Guard lifeboat, as it would likely put you in a situation that requires one. But if you're willing to head a little south this summer, you and any kid 4 and up can ride in a real USCG motor lifeboat. This boat built in 1941, labeled Motor Lifeboat 36460, is not only a powerful champion of the sea, but also a celebrity; he appeared in Disney's 2016 film The Finest Hours, which chronicles (in part) one of the most daring rescues in Coast Guard history, when four brave Coasties risked their lives to rescue sailors – amid 70-foot waves and a raging blizzard – from one of two 500-foot tankers that broke up 20 miles off Cape Cod in February 1952.
A ride on this action movie star costs just $20 per person for a 30-minute cruise, but if that's not enough to lure you to her homeport in South Haven, it might be. Be: This homeport is home to the Michigan Maritime Museum, where boat enthusiasts of all kinds will find a whole fleet of replicas and historic vessels. You'll find the distinguished Lindy Lou, a replica of the Truscott River Launch tour boat; Merry Time, a gleaming mahogany Chris-Craft Cadet, circa 1929; and the nearly century-old (and still very fast) Bernida, a Universal Rule R-class sloop and thoroughbred racing yacht that won the first Bayview-Port Huron Mackinac race in the summer of 1925, again in 27, and – after a few decades lost in a barn in Frankfort – was cleaned up in 2010 and returned to win the Bayview-Port Huron race at Mackinac in 2012.
A word of warning, Captain: due to construction work at the Maritime Heritage Center, much of the museum campus is closed but should open soon; some exhibitions and events are already on the program and all experiences on the water are available. michiganmaritimemuseum.org
Yacht Rock (Northport)
Live the dream – an extra-large – aboard your very own 60ft yacht. With four bedrooms (eight beds), four bathrooms, a full kitchen, living room, and three furnished decks, you won't need to leave this floating oasis, but there are plenty of reasons to. First, it's moored in Northport, a quaint village with fabulous shopping, dining, antiques, galleries, and hiking and biking opportunities. Second, its position atop Grand Traverse Bay means extraordinary stargazing (and possibly the Northern Lights, too). And third, each stay includes eight rounds at the 9-hole Northport Creek Golf Course, just a 5-minute golf cart ride from the marina. Oh yes, and the golf cart is also included in your stay. Sleeps up to $10,950 (average) per night. Find it by searching for property number 2331612 on VRBO.com.