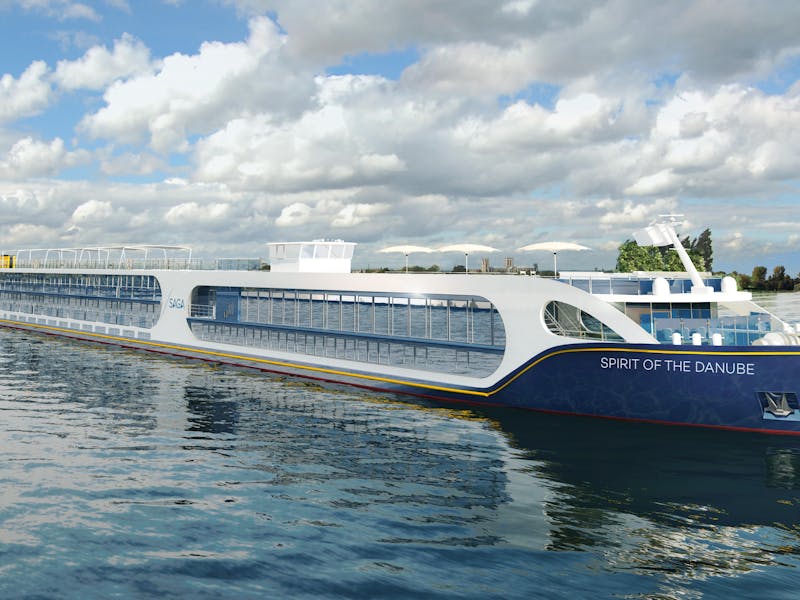 Saga River Cruises confirms the construction of four new river vessels
(1530 GMT) — Saga today announced a significant expansion of its river cruise business with four new ships to be added on four new rivers.
The four new ships will join Saga's two existing river ships –
Spirit of the Danube (pictured above) and Spirit of the Rhine – both of whom were named by Dame Jenni Murray in Arnhem, the Netherlands, on Sunday.
The four new ships will be called Spirit of the Moselle, Spirit of the Main, Spirit of the Elbe and Spirit of the Rhône, and will operate on each river after which the ship is named.
The first vessel will enter service in May 2023 with the others to follow each year thereafter.
Nigel Blanks, CEO of Saga Cruise, said: "We are excited about the opportunity to expand our fleet of river vessels to meet the ever-increasing demand for luxury river cruises.
"Today's announcement of four new ships is the next exciting step in expanding our broader cruise offering. It builds on the success of Spirit of the Rhine and Spirit of the Danube which have been launched this weekend and on our award-winning ocean cruise offering.
"These new ships will allow us to offer an even wider range of boutique experiences to customers wishing to travel the waterways across Europe."
The news, which was announced with Saga's annual results, is part of the group's wider strategic growth plan. The four new ships will be operated as part of the wider cruise business – which includes ocean-going vessels Spirit of Adventure and Spirit of Discovery – under Blanks.