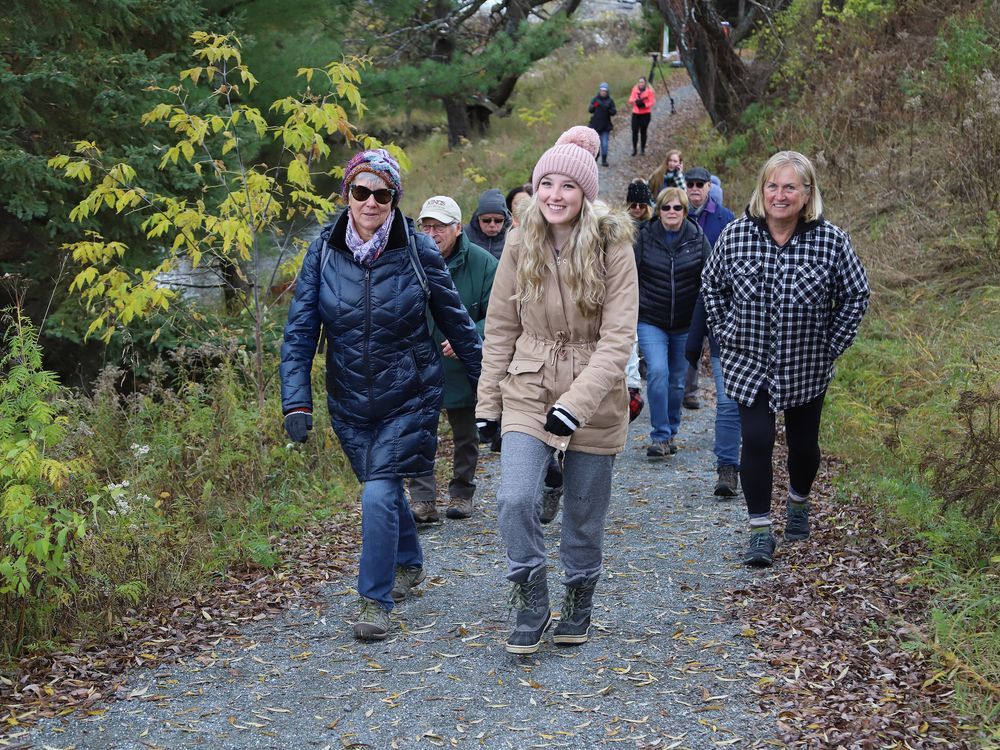 Rainbow Routes marks 10 years of hiking the Fisher Wavy Trail
New project underway to improve the path through the LU property
Content of the article
Community members gathered Thursday to celebrate a unique bond in the Junction Creek Trail.
Content of the article
"It's a very important section," Rainbow Routes director Dan Barrette said of the 1.7km stretch through Gatchell. "It's the convergence of three iconic trails – the Trans Canada Trail, the Lake Huron North Channel Bike Trail and, of course, Junction Creek Waterway Park."
The JCWP's interconnecting trails run through the heart of the city, following (and sometimes crossing) Junction Creek which flows from New Sudbury to Kelly Lake.
The westernmost section of the network was completed a decade ago, but had yet to officially open, for various reasons.
"There was a break in grade in the trail, there was work on the city water line at one point, then Kelly Lake Road was rebuilt and the bridge was rebuilt," Barrette said. "So there were a whole bunch of challenges."
Content of the article
This week, however, was a good time to finally cut the ribbon on the route – dubbed Fisher Wavy Trail after its main sponsor – as roadwork in the area has not only been completed, but has included active transportation upgrades.
"Kelly Lake Road now has cycling infrastructure and a sidewalk to connect this very important trail in our city, both locally and federally," Barrette said.
The Fisher Wavy Trail stretches between Martindale Road and Kelly Lake Road, and is something of a "hidden gem," Barrette said. "You have Lorne Street right next door, Kelly Lake Industrial Park nearby, but you feel like you're immersed in nature. The creek itself is a nice area and the trail is a bit wider there. It's incredibly enjoyable.
Content of the article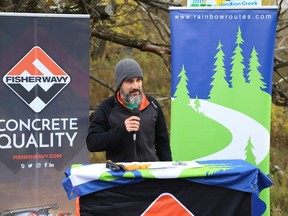 The trail association installed a meter earlier this year to track trail usage and found that traffic here is heavy.
"Since we implemented it in May, we've seen there were at least about 700 weekly trips, which peaked at around 1,200 during the summer months," Barrette said. "So that means around 140 to 170 people a day."
Timestamps also show that the trail is in use at all hours of the day, from 7 a.m. to 7 p.m., the manager of Rainbow Routes noted.
A variety of wildlife can be spotted along the route, including turtles and birds, although bears – to the relief of many – are not as common.
Barrette said this stretch of trail through Gatchell could not have been accomplished without the help of various partners.
"Behind every Rainbow Routes initiative, there are always individuals, companies and partnerships," he said. "For this one, Fisher Wavy was a big sponsor, contributing substantially to the overall cost. Subsequently, the Trans Canada Trail Foundation was a key partner, along with the City of Greater Sudbury.
Content of the article
The organization is currently fundraising for another project, which involves improving a trail through Laurentian University property.
"It is about 500 meters long and connects the Loach Extension to the Great Hall, running north to south," Barrette said. "This trail can get quite difficult when wet, but it's well used and we felt it should be maintained at that level where if you're biking you won't get muddy."
Students in LU's Outdoor Leadership program get started installing culverts and Fisher Wavy contributes its crushed stone surface, but Rainbow Routes still needs to find the money to cover the rental and delivery costs of the culvert. 'equipment.
"This is a project of about $17,000 to $20,000 in total," Barrette said. "It's not something we've done very often, but we have a community fundraising campaign to see if we can get the community to invest in this project as well."
The association hopes to raise $3,500 through its Great Hall Connector campaign. Thursday, he was already more than halfway to that goal.
To learn more and donate, visit tinyurl.com/yntj3j8s.