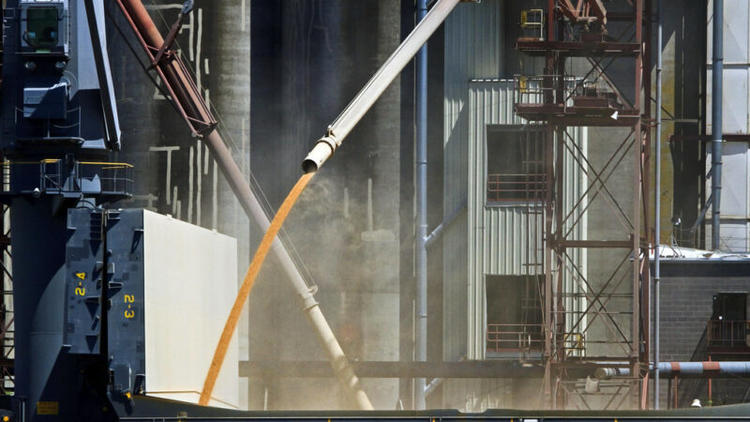 Opening sea routes from Ukraine will not reduce the pressure of commodities and foodstuffs on the Middle East and North Africa
By Roman Shemakov | –
Russia and Ukraine are two of the most essential pillars of the global food trade, producing 25% of the world's wheat supply. More than 160 days after Russia invaded Ukraine, shortages of food, raw materials and energy have plunged many economies around the world into recessions, particularly in the Middle East, where some countries are among the world's largest importers of these raw materials.
On average, Ukraine harvested 80 million metric tons of grain per year (wheat, corn, barley). That's enough to feed 200 million people for a year. The Russian invasion reduced the harvest to less than half of its grain capacity. The naval blockade of the Black Sea prevented much Ukrainian grain from leaving port. In March, food prices hit their highest level in 10 years and the United Nations warned of multiple famines over the next year.
"A Crop Of Grain" by Ian Sane licensed under CC BY 2.0.
After months of negotiations, on August 1, a ship carrying 26,000 tons of grain leaves the port of Odessa; the first ship to do so since the start of the war. The agreement reached on July 22 in Istanbul between Ukraine and Russia guarantees a continuous flow of grain out of Ukraine. This is a particularly good sign for countries in the Middle East and North Africa, where many states import more than 80% of their national grain supply from Ukraine and are the most vulnerable to rising food prices. food.
But free shipping routes will not solve the growing food crisis. The Russian destruction of farmland and heavy machinery caused more than $4.3 billion in damage to the agricultural industry. More than 6 million poultry died and half a billion dollars worth of grain was stolen. Some estimate that more than half of Ukraine's usable agricultural land is occupied.
In a video interview with Global Voices, David Rundell, a 30-year-old diplomat in the Middle East and author of "Vision or Mirage: Saudi Arabia at a Crossroads," explained the distributed impact of war on countries in the region: "There is very little interest across the Middle East in finding themselves in the middle of a fight that they don't believe is theirs. There is much more concern about the impact the war will have on political stability. Many countries see what happened in Sri Lanka and fear that similar events will happen in their own neighborhood.
This analysis is consistent with extensive attitudinal surveys conducted in the Middle East and North Africa. In an Arab News-YouGov poll of the region, 66% of respondents had no position on the war, 18% supported Ukraine and 16% supported Russia.
Rundell highlighted the disproportionate impact of commodity shortages on the region: "Many countries in the region are very sensitive to the price of wheat, sunflower oil and oil. All of these products have been affected by shortages or rising world prices. At the moment, the various governments are trying to maintain the subsidies they have and this is leading to huge budget deficits.
Almost all the countries in the region are badly affected by the war.
The war inflicted unprecedented inflationary shocks on the Egyptian economy. There is almost no tourism from Ukraine and Russia, which normally account for 30% of incoming visitors to Egypt. The manufacturing and construction industries were the hardest hit due to rising energy and material prices. Egypt, which gets 80% of its wheat from Ukraine and Russia, has been forced to look to other countries to import grain, and the cost of bread has risen 50% since the start of the war. As a result, the Suez Canal raised toll fees and the central bank devalued the currency by 14% to prop up the struggling economy.
Food insecurity is expected to become even more acute in Yemen, which imports 40 percent of its wheat from Ukraine and Russia. The humanitarian crisis in the country which started with the civil war in 2015 is should get significantly worse. Wheat prices have risen 35 percent since the start of the war, and at times grain has completely disappeared from the markets.
Libya imports 90% of its wheat from Ukraine and Russia. Overall, the prices of bread, rice and couscous have increased by more than 30%. The war added more than a percentage point to the country's inflationary pressures, bringing the headline rate to 9%.
Algeria is the best protected from the harmful effects of war. The country imports 3% of its wheat from Ukraine and Russia, and domestic supplies are sufficient to survive shortages until the end of 2023.
Tunisia imports about 54 percent of its wheat from Ukraine and Russia. The country already owes Ukrainian wheat exporters $300 billion. Deteriorating economic prospects, rising inflation, soaring food prices and a water crisis all have the potential to further destabilize the nation.
More … than 80% of Lebanese wheat comes from Ukraine and Russia. The United Nations reported that "the number of people in urgent need of assistance has increased by 46 percent". The country's economy is expected to contract by 6% in 2022, following double-digit declines in 2021 and 2020. Food shortages and rising energy prices have put greater pressure on the 2.2 million vulnerable citizens of Lebanon, 200,000 Palestinian refugees and 1.5 million Syrian refugees. . Hospitals suffer from shortages of staff, medical supplies and energy. The country has faced four successive crises in 2 years: the economic recession, the COVID-19 pandemic, the explosion of the port of Beirut, and now the war in Ukraine. Today, more than 80% of the population lives below the poverty line.
On July 19, Vladimir Putin visited Tehran as a sign of continued stability in Russian-Iranian relations. Now that the two states are constrained by crippling global sanctions, the two are vying for oil markets in Asia. The president of the Union of Oil and Gas Exporters of Iran announced that sales to China had fallen by 34% since May. Similar pressures are weighing on Iran's $6 billion steel market. Russia remains one of the main signatories of the 2015 membership [AN: Joint?] Comprehensive Plan of Action (JCPOA) on Limiting Iran's Nuclear Proliferation; in March, Russian Foreign Minister Sergei Lavrov demanded that the United States guarantee certain trade guarantees or it would refuse to back the deal.
The Iraqi government refrained from taking a position on the conflict, voting on an Arab League statement that did not blame Russia and refraining from UN condemnation of Russian aggression. Russia has more than $14 billion invested in Iraq's oil and gas sectors, and Iraq buys billions of Russian weapons every year. Iraq does not buy Russian or Ukrainian agricultural products, but the country imports 50% of all food and has been affected by rising food prices. On June 8, the The Iraqi Parliament passed the "Emergency Law for Food Security and Development", increasing existing food and energy subsidies by an additional 25 trillion IQD (approximately $17 billion).
About 90 percent of the West Bank and Gaza's food supply is imported. More than a third of the national dependency is based on Ukrainian wheat. A manager of a flour mill in Gaza noted that the main cause of rising food prices "…is the–Ukrainian war. We had stores for two to three months, but when they ran out we had to buy wheat at new prices, and it was very expensive. Lack of efficient agricultural infrastructure, control of irrigation resources and a financial crisis are likely to exacerbate pressure on food supplies.
The Israeli government has been reluctant to support Ukraine unequivocally. Russia's presence in Syria and Iran – two existential threats to the nation – has brought Israel closer to Moscow. As a result, Israel has not provided military aid to Ukraine or participated in Western sanctions against Russia. A large majority of Israelis support the Ukrainians in the war.
Rising energy prices have been a financial windfall for oil-exporting Gulf countries. A significant portion of the revenue was directed to food security ministries and projects. Western solidarity against the war has drawn cold reactions across the region, which maintains a close alliance with Russia and China. During a meeting with all the sheikdoms of the Gulf in Jeddah, Saudi Arabia, Biden said: "We are not going to stand down and leave a vacuum to be filled by China, Russia or Iran, and we will seek to capitalize on this moment with active, principled American leadership.
Rundell concludes that "the inevitable result of collapsing economies and political turmoil in the Middle East and Africa will be massive and illegal migration to Europe on a scale far beyond previous war-related emigration from Syria. and Libya. Preventing this outcome will require immediate, large-scale and well-coordinated multinational action. This will require more than a token increase in foreign aid that will only increase the price of existing wheat supplies.
For more information on this, see our special feature Russia invades Ukraine.
Written byRoman Shemakov