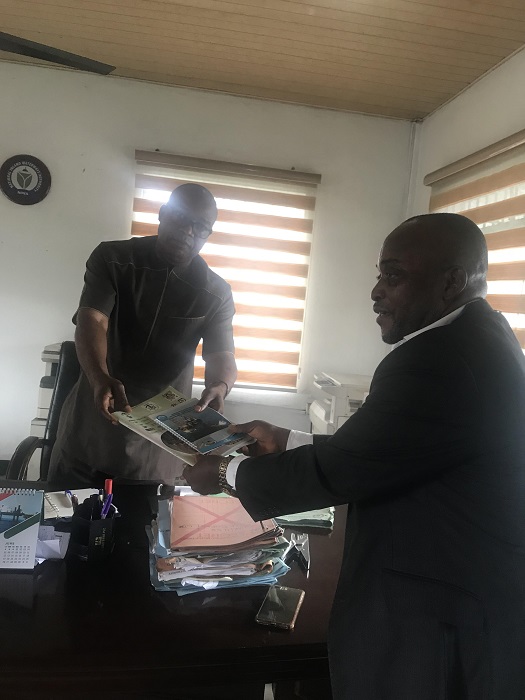 NIWA promises partnership with ACWCN on viable routes for -Freshangle News
The The National Inland Waterways Authority, NIWA, has pledged to partner with the Association of Coastal Communities and Waterways of Nigeria, ACWCN, on opportunities to explore viable routes for river transport through the Niger Delta and other coastal areas of the country, International Angle Fees can report.
The assurance was given Thursday, May 26, by NIWA Area Manager, Warri in Delta State, Engineer Rufus O. Ogbonlatowhen the national president and the Delta State leadership of the ACWCN paid him a working visit.
While promising a symbiotic relationship with the members of the Association of Coastal Communities and Waterways of Nigeria, ACWCN, Eng. Ogbonlato, noted that NIWA and ACWCN can work, "together to ensure the proper functioning of the sea lanes".
Video clip of the working visit
He said: "We will try as much as possible to foster good relations with your association. We need you as you need us because you are closer to coastal communities. Our MD (General Manager) will be willing to work with you (ACWCN).
"NIWA will do everything we can, within our capabilities, for the dredging of the Warri River. I pray for the glory of Warri to return. The Olu de Warri (Ogiame Atuwatse III) tries to seduce investors. Clearing streams has been routine for us. We do our best to acquire our own boat. If you know of any viable routes for boat transport, do well to communicate it to us in writing".
Engineer Tuoyo Woligho (2n/a left) Genius. Rufus O. Ogbonlato (3rd Left) comrade Nicolas Bawo Ighomi (6e left) and other ACWCN members
Earlier in his remarks, the Delta State Chairman of the Association of Coastal Communities and Waterways of Nigeria (ACWCN), Engr. (Dcn) Tuoyo Woligho, told Engr. Ogbonlato: "The idea of ​​a platform or association for coastal communities and waterways in Nigeria was conceived in 2019 by credible and passionate natives of the region, who felt the pains of exploitation, the degradation and total neglect of these areas. by successive governments and their agencies and corporate organizations operating in this field.
"The sole purpose of this initiative is to represent, protect and defend the interests of the community, as well as to promote sustainable peace, a clean environment and improve the living conditions in the coastal and waterway communities of Nigeria, through peaceful dialogue and consultation with relevant authorities.
"Our activities are grassroots, with balanced community representation.
"The association is registered with a duly constituted board of directors with the Nigeria Cooperative Affairs Commission, and as a vital player in coastal communities and waterways, it is very important that we come to you present and introduce you to this body, for your recognition and to parley with your establishment.
"We want to use this medium and this privilege granted to us to officially appreciate the efforts of the Federal Government of Nigeria and its agencies like the Ministry of Transport, NNPC, NPA, NIWA, NIMASA and others, for the ongoing dredging plans from the Warri -Escravos Bay River, to the ports of Burutu, Warri, Koko and Sapele. We commend and give our full support to the government for these laudable steps, we also ask that the EPZ project in Ogidigben, Escravos be included in the next federal government budget for full scale execution. All of these elements, in place, will restore social and economic activities in the coastal and riverine communities of Nigeria and Delta State in particular.
"We want ask for your support and seek your consideration in the following areas of your institution:
"Be in a good working relationship with your establishment. To assist in the dredging of our streams, waterways, rivers and coastal waterways. Help provide speedboats for water transport for the convenience of local residents. To help clean up the water hyacinths that are taking over our streams, canals, rivers and coastal lanes. To consider us in your programs (Corporate Social Responsibilities) with your host, for example seminars, conferences, scholarships, training, skills acquisition, etc. Employment in all categories of workers. Contracts, etc. ".
This journal may report that ACWCN National President Comrade Nicholas Bawo Ighomi in his remarks thanked the NIWA leadership for the opportunity to rub wits with members of the association.
"The state body will write for a partnership with NIWA to establish commercially viable waterways. The issues of shallow creeks and water hyacinth would be properly addressed with this partnership," Comrade Ighomi said.
Sponsored ad










Copyright: Fresh Angle International (www.freshangleng.com)

×