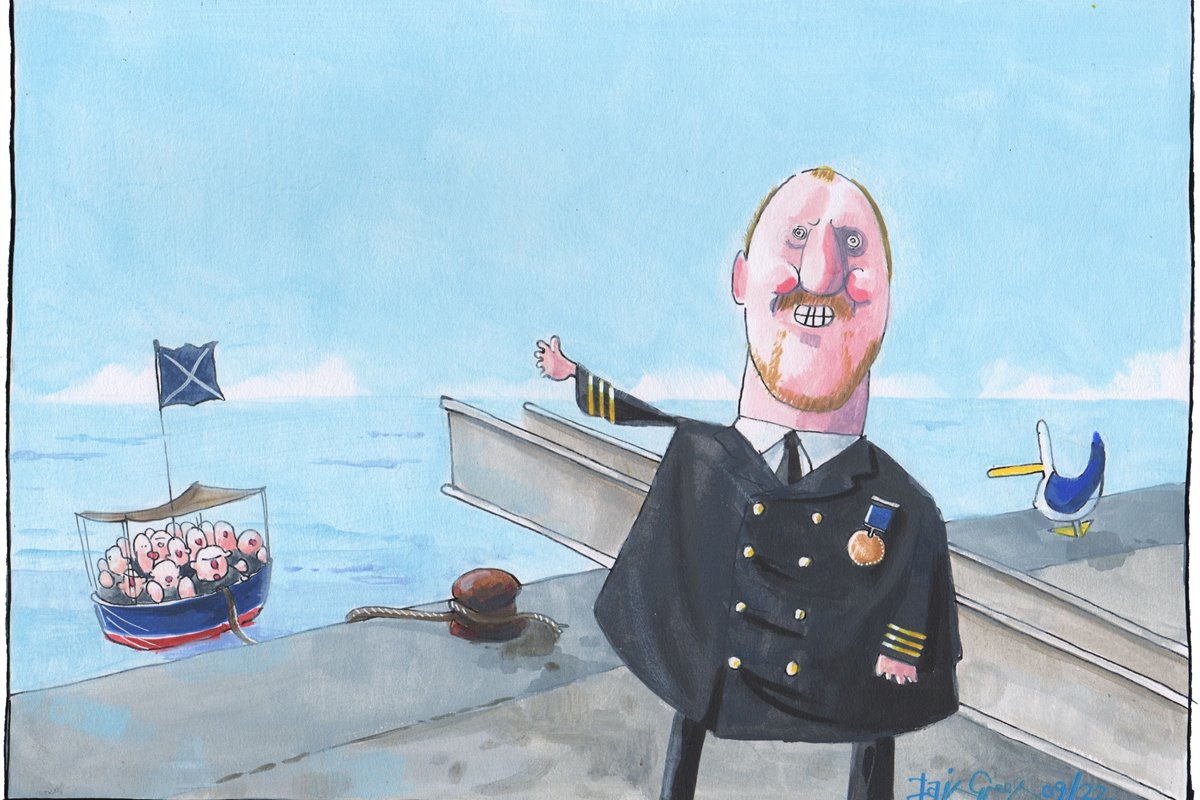 Neil Gray defends the Boats for Ukraine program
Scotland welcomes refugees. Open the doors and let them stay. Give us your weary, your poor, your huddled masses yearning to breathe free… and we'll push them onto a boat in the Firth of Forth. We love refugees so much that we'll call them the New Scots. And then we'll take a second boat to the west coast and leave a few hundred more there, on the rather ironically named MS Ambition.
"The feedback we've had from the Ukrainians has been very, very positive about how they were received on board the ship," insisted Neil Gray, Ukraine's refugee minister. Those lucky Ukrainians, who have a minister specially in charge of them, as he gets them into the tiny berths of a cruise ship that will be their home for… well, as long as the government thinks they can s 'draw.
When will we give them real houses with non-spherical windows, less seagulls and less chance of getting seasick? Gray shrugs. "I don't want them here any longer than they absolutely have to. We will present these proposals as soon as possible.
You would have thought the Scottish Government would have put more effort into the whole program, insisting as they are that Scotland is a welcoming place. It turns out that refugees are only welcome in our decommissioned ships, not in our bricks and mortar. Hey, maybe those rusting buckets currently installed at Ferguson Marine in Port Glasgow could be repurposed, as they're no use as real ferries at the moment.
"There were concerns and there was an element of discussion around the suitability of the ship," Gray acknowledges. Who could have predicted that people would be shocked to learn that the Homes for Ukraine program was actually the Boats for Ukraine program. "I have seen for myself, I have been on board and I can see for myself the services and support that are available there," added the minister. Sorry, but you might understand if we don't take your word for how great everything is.
Ah, but you see, the problem here is that the government's super sponsorship program has been too successful. The system was set up with the main objective of "getting people here as quickly as possible, then allowing them to rebuild their lives, to find longer-term housing". Is it the government's fault that people thought there would be less time between refugees arriving here and starting to rebuild their lives? Of course not!
"Obviously we have challenges in terms of temporary accommodation." No shit. "That's what we're working on, that's what the break was for, to make sure we can work on how to make the program more sustainable." The minister never thought to make sure it was viable before going ahead, apparently. Because what good would a resettlement program be if it actually resettled people? That way the government can brag about how great it is, win applause, and never have to lift a finger to improve people's lives. This is the SNP method.
So, if we are not allowed to see it, can the minister at least tell us a bit about how it is on the boat? "There are great common areas, great restaurants, support services are on board," says Gray. He carefully avoided the issue of room sizes, adding instead: "I think like with hotel accommodation, people use the common areas as a living room and their rooms which they only use to sleep." Has Neil Gray ever stayed in a hotel? Who uses the lobby, ever?
Imagine, just imagine, what a day on the ground the SNP would have if it was the UK Government placing refugees – who have just made the incredibly difficult decision to flee their home countries – on cruise ships and then leave there without delay to get out.
"The houses are checked, are being processed," the minister said. "The Super Referral Program has been an incredible success. You can see that we have more than double our population share of people arriving from Ukraine here in Scotland. Yes, because the fact that there are even more people needing a home than you had to involve a second boat is actually a big win for the Scottish program.
"I want to make sure that we can communicate the opportunities that exist beyond the central belt and ensure that people have the opportunity to rebuild their lives wherever they want," adds Gray. Indeed, because it is the refugees' fault for being too picky about where they want to live. Laugh at Priti Patel all you want, but at least she was honest about her approach to refugees and people coming to our shores through small inflatable boats. Here in Scotland we have just made the boats bigger and more seaworthy.