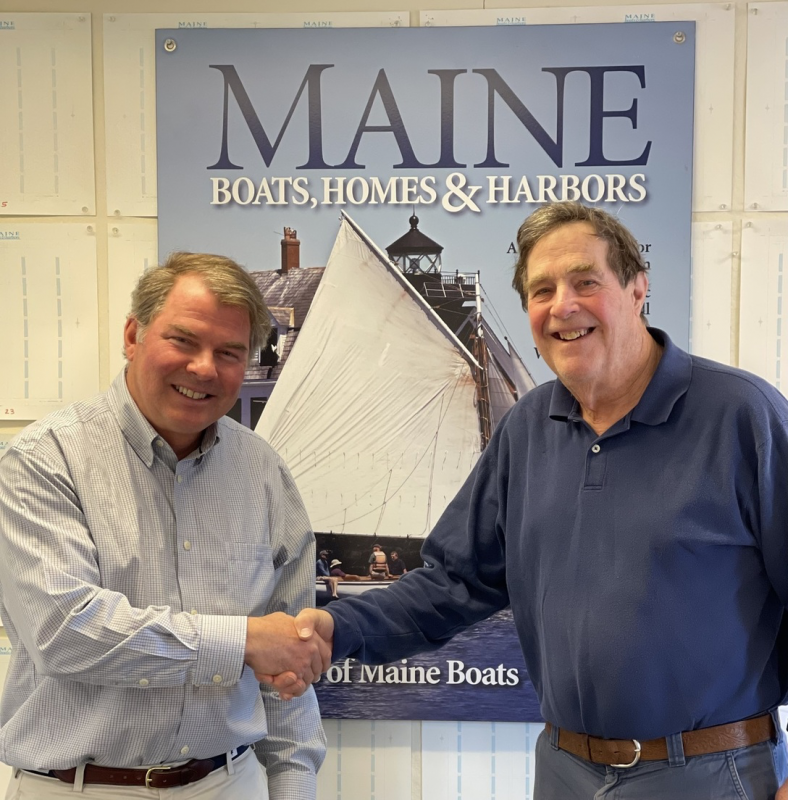 Maine Boats, Homes & Harbors Magazine Changes Hands
Maine Boats, Homes & Harbors Magazine has a new owner. Ted Ruegg took the helm as editor of the magazine, which has celebrated Maine boatbuilders and coastal life for more than three decades.
Ruegg, whose family has long-standing ties to Maine, has worked in the maritime industry for 35 years, most recently with Sailing World and Cruising World magazines.
MBH&H founder and longtime publisher John K. Hanson, Jr. will continue in the role of publisher emeritus and work with Ruegg to grow the Maine Boats, Homes & Harbors brand across print, digital and events. On August 13, MBH&H will host a gathering of boaters and shore lovers in Rockland to celebrate the award-winning magazine's 35th anniversary.
Managing Editor Polly Saltonstall will also continue her role with the magazine and its digital and web editions. The magazine's offices will remain in Rockland.
Ruegg has been visiting Maine since she was three years old. His grandmother bought a cabin on North Haven Island in 1957. He came back every summer he can remember. He's traveled the coast, raced its bays, and already visited many of the shipyards that are part of the vibrant fabric of Maine's boating industry. Her father is also a resident of Maine. By an interesting coincidence, Saltonstall, whose family also has long-standing ties to North Haven, taught Ruegg in sailing class there many years ago.
Ruegg moved with his family to Maine from Annapolis, Maryland, where he had lived for 32 years. He served on the board of directors of the Marine Trades Association for more than 20 years and served as its president from 2004 to 2006.
"I look forward to working with John, Polly and the dedicated staff at Maine Boats, Homes & Harbors," he said in a press release. "I have been a fan of the publication for years. I enjoy sailing and boating on Maine waters. I have been active in the maritime industry for over 30 years and have seen publishing in the maritime space evolve into digital products and events. It's like I've been training to do this all my life. I would love to move up north with my family and get to know all of the wonderful artisans that make Maine so unique.
The sale includes the magazine's print and digital editions, its websites maineboats.com and maineharbors.com, and the Maine Boat & Home Show.
Hanson started MBH&H in 1987 with the goal of showcasing the quality of Maine craftsmanship and enticing readers to "buy Maine." The magazine did that and more since.
"I'm thrilled to pass the baton to such a skilled marine professional as Ted," said Hanson. "His love and passion for life on the coast and boats mirrors mine. I look forward to working with him as we head into our next 35 years, publishing the finest magazine on the coast.
Maine Boats, Homes, and Harbors reflects in words and images life along Maine's waterfront, whether on the ocean, a lake or a river. The magazine explores some of the best cruising terrain in the world, interviews renowned Maine boat designers and builders, and sails on Maine vessels, from dinghies to luxury yachts, schooners and boats. of work. MBH&H relives the historical events that shaped Maine's character, uncovers the mysteries of Maine's coastal ecology, and visualizes the work of Maine's fine artists, homes, and gardens. The mission is to educate, entertain and promote boats, the coast of Maine and its manufacturers. The goal is to promote healthy coastal communities and get more people out on the water, buying and enjoying boats.
For more information, contact Polly Saltonstall at [email protected] or 207-594-8622.