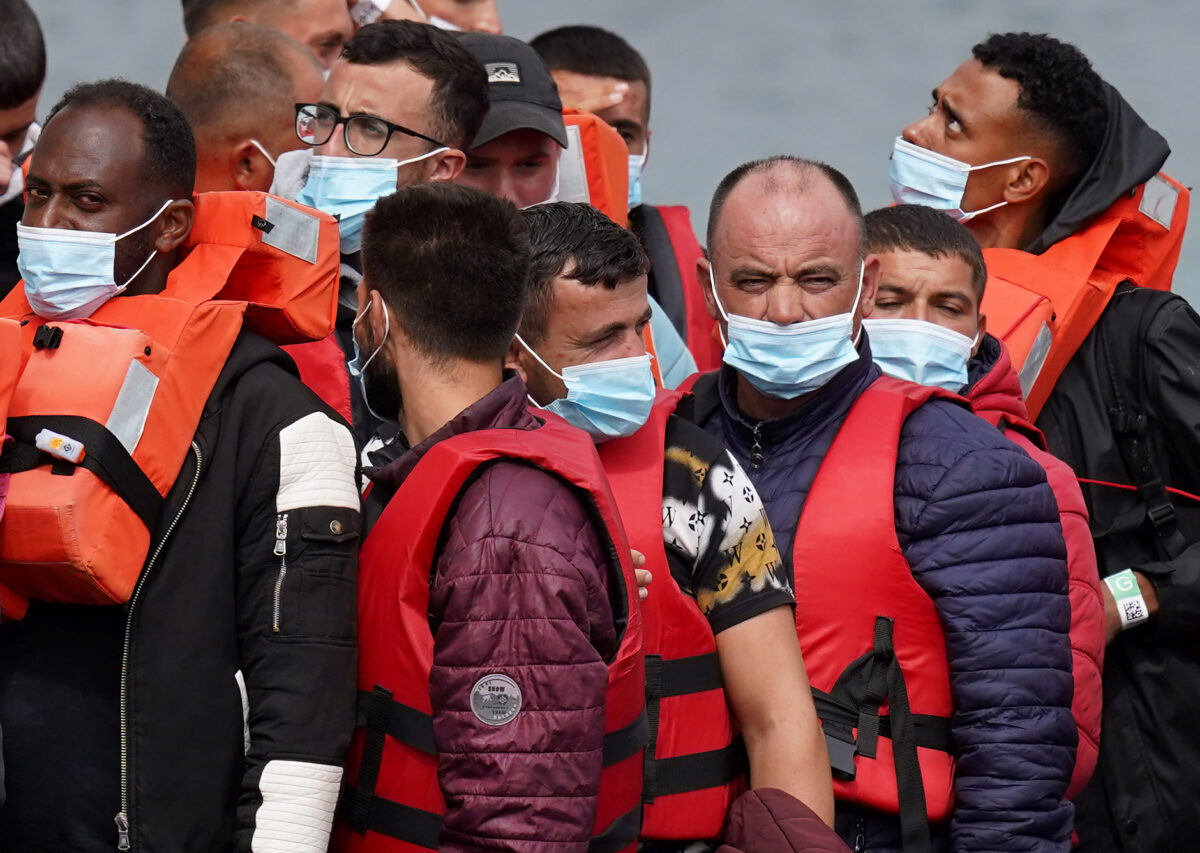 Home Office official says number of MPs crossing Channel by boat 'unacceptable'
A senior Home Office official praised the French for intercepting 28,000 illegal immigrants and destroying more than 1,000 boats, but admitted the number of people crossing the English channel was still "unacceptable".
Dan O'Mahoney, the Home Office's underground chain threat commander, told the Home Affairs Committee on Wednesday that 38,000 people had crossed the Channel in 936 small boats this year.
He said another 28,000 migrants were prevented from crossing by French authorities, who also destroyed 1,072 boats.
O'Mahoney said there had been an "exponential" increase in the number of Albanian migrants crossing the Channel, from 50 in 2020 to 800 last year and 12,000 so far this year.
He said that 10,000 of them Albanian were single adult males.
Many Albanians "play the system"
O'Mahoney said: "Within this cohort … there are undoubtedly people who need our help, but there are also a large number who are deliberately playing with the system."
He said many people flew from Albania to Belgium and then traveled to the French coast to board the small boats.
O'Mahoney said the asylum grant rate for young Albanian men was only about 12%, so he said many don't bother to apply for asylum. asylum.
He said they'll usually put them in a hotel for a few days and then they'll disappear, work illegally in the UK for maybe six months, maybe a year, send the money home and then they'll go back to Albania.
O'Mahoney added: "They are able to do this because the way the asylum system works and the NRM [National Referral Mechanism] work allows them to do this quite easily.
The NRM is, as it states on the government website"a framework to identify and refer potential victims of modern slavery and ensure they receive appropriate support".
O'Mahoney praised the work of a joint intelligence cell in Calais, where the Interior Ministry, the National Crime Agency and French authorities share information on human traffickers.
He said the Joint Intelligence Cell had successfully taken down 55 organized crime groups this year and he pointed to one particular operation last week that led to the arrest of six men involved in transporting illegal immigrants from the other side of the English Channel in small boats.
The NCA said in a statement that four boats and 133 life jackets had been seized and that six men, from Iraq, Afghanistan, Sudan and France, will now be tried in French courts in February 2023. .
Abi Tierney, the Home Office's chief executive, Customer Services Capability, said they were spending £6.8million a day to house asylum seekers in hotels, up £2million from February.
Dan Hobbs, director of asylum, protection and enforcement at the Home Office, told the committee that 96% of asylum applications in 2021 had still not reached a final decision and, of the 4% that had been, 85% had succeeded.
Tory MP Tim Loughton called the 96 per cent figure 'ridiculous' and said: 'So a lot of people still don't know whether their claim will be successful or not and are residing in the UK at taxpayer expense?
"Yes they will be in different stages, some may be pending appeal," Hobbs replied.
Hobbs went on to say, "As is well documented…there is a challenge in processing asylum claims in a timely manner.
"The challenge is not the half," Loughton replied.
The committee also heard testimony about Manston, the former military base in Kent which is used to process those arriving on small boats.
O'Mahoney told the committee when Manston was commissioned in February, "the goal was to manage a site that had between 1,000 and 1,600 people passing through it every day. And that all these verifications will be carried out in less than 24 hours.
"The Manston model is based on exodus … to detention or to asylum seeker accommodation," he said. "As the year progressed, it became increasingly difficult to move people off site."
SNP MP Stuart McDonald, who visited Manston earlier this year, said he understood around 3,000 people were currently being held there, which he said was more than in n any British prison.
"Those numbers are broadly accurate," O'Mahoney replied.
McDonald asked about a "potentially very dangerous" diphtheria outbreak in Manston.
O'Mahoney said: 'I wouldn't describe this as an epidemic. … There have been a very small number of diphtheria cases … but they are being treated very quickly and expertly by the medical teams on the ground.
The inspector was left "speechless" because of the situation in Manston
David Neal, the independent chief border and immigration inspector, later told the committee that he visited Manston on Monday and was left "speechless" when he discovered that 2 500 migrants at the former military base were guarded by untrained guard staff, which he described. like a mix of immigration officers and security guards.
He said he wrote to then Home Secretary Grant Shapps on Monday to "alert" him to the situation.
Shapps was replaced by Suella Braverman in Tuesday's cabinet reshuffle.
Neal said that when he visited Manston, 2,800 people were being held there, including 190 others at Western Jetfoil facilities in Dover and another 24 en route from Dover to Manston.
He said 78 migrants had been moved out of Manston in the past 24 hours and he said: 'What was alarming were the numbers [coming in] … exceed the capacity of the site.
Committee chair Diana Johnson said Immigration Minister Tom Pursglove was also due to give evidence on Wednesday but was replaced by Robert Jenrick during Prime Minister Rishi Sunak's cabinet reshuffle and Jenrick did not was unable to attend.
She said she really hoped Home Secretary Suella Braverman would keep her commitment to speak to the committee next month.