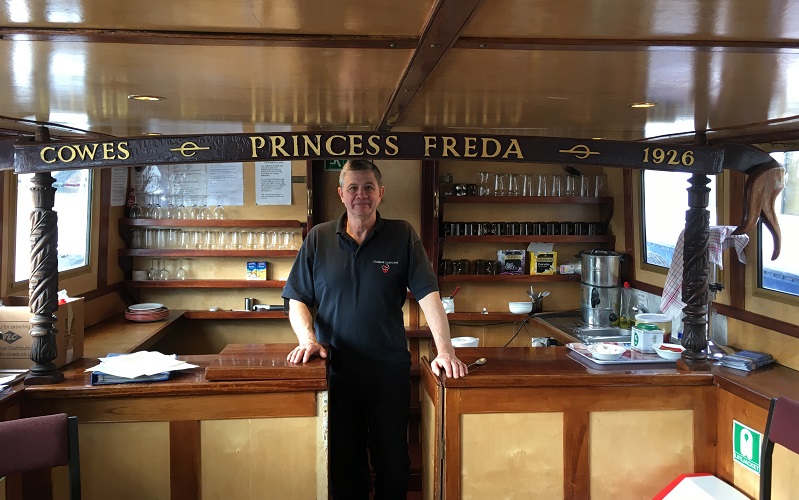 Fears for historic Richmond passenger ships over changes to safety requirements
[ad_1]
An owner of a Richmond passenger boat business is concerned that proposed new boat safety requirements will force him to stop transporting tourists along the River Thames on ships that have participated in Dunkirk.
Danny Collier (pictured above), who runs Colliers Launches near Richmond Bridge with his two brothers, garnered support from local MPs Ruth Cadbury and Vince Cable to fight to convince the Maritime and Coastguard Agency to reconsider his decision .
The agency, which is under the Department of Transport, wants boat owners to raise decks to improve safety, but Mr Collier says the cost of fitting his craft, like the nearly 100-year-old Princess Freda, would be extremely expensive.
BACKGROUND: Boats would require costly adaptations to meet new safety requirements.
He said: "We carry several thousand people here from Westminster, Kew, Hampton Court. There would be a loss of our carrying capacity. It would not be profitable. Each boat could cost £ 250,000.
Even if he bore the cost, he estimates his ships would carry 70 to 80 fewer passengers per trip, reducing economic viability.
In addition to a significant historical loss, he believes the region's economy would suffer if his business went bankrupt.
"There would be the loss of a tourist route, of the dry dock facilities that do maintenance and of my crew. In high season I employ 9 people. I don't know if they would find other jobs. The dry dock companies would not go bankrupt, but they would be the losers, "he said.
Although it has a database of the vessels, the MCA did not contact Collier directly about the consultation, which ran from November 6 to January 29.
"I think the consultation failed in many ways. Someone else told me about it and even heard him talk about the river vineyard. It is not a consultation, "he said.
He says he welcomes proper regulation of the passenger boat industry, but his ships have carried millions of people without any safety concerns, so he doesn't see the point in the proposals.
Vince Cable, MP for Twickenham, and Ruth Cadbury, MP for Brentford and Isleworth, wrote to Chris Grayling, Transport Secretary, on behalf of concerned boat owners.
The MCA said only four of the 198 Dunkirk Little Ships in total could be affected by the proposals and that exemptions could be granted on a case-by-case basis.
He added that he had made every effort to ensure that all interested parties and stakeholders in the UK passenger ship industry were involved in the initial consultation and that the consultation will continue.
The MCA stressed that it intends to increase the safety of the national fleet of passenger ships.
[ad_2]