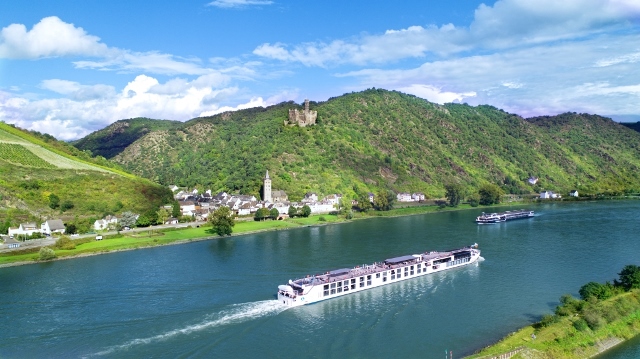 Crystal River Cruises to expand vaccination requirements through 2022
Today, Crystal River Cruises announced that it will extend its vaccination requirements for all guests and crew until December 2022. The line's updated Crystal Clean + health and safety protocols will continue to work. Require all guests and crew to be fully immunized with a COVID-19 vaccine (with both doses, if recommended by the manufacturer) at least 14 days prior to their embarkation date. Passengers will need to provide documented proof of vaccination upon check-in before boarding the ship. The vaccination requirement allows guests the freedom to explore the land independently and facilitates smooth and hassle-free travel on multi-country routes.
"The health and safety of our guests and crew is paramount to everything we do at Crystal River Cruises, and as such, we will need a full vaccination until 2022 so our guests can continue. to explore the world in comfort and safety, "said Walter Littlejohn, senior vice president and general manager of Crystal River Cruises. "After months of planning and preparation, we welcomed guests back on board at the end of August and the feedback has been great. The extension of the vaccination requirement provides our customers with the health and safety information and assurances they need to plan their future trips. "
Crystal continues to be a leader in its proactive response to COVID-19 with protocols based on the latest data and recommendations from health experts. Vaccine requirement increases the company's comprehensive Crystal Clean + measures, including boarding COVID-19 testing for guests and crew, return-from-land temperature checks, a mask policy agile, social distancing guidelines, improved cleaning and sanitizing measures and more. Additionally, the Crystal River Cruises crew are also currently wearing masks in all public areas to provide another layer of protection for guests.
Spacious in design, Crystal River Cruises' suite river vessels allow for great social distancing, accommodating half as many guests as vessels of similar size and offering an abundance of tables for two at its a la carte restaurants, where customers dine when and with whom they want. Additionally, fresh air ventilation systems ensure that all guest suites and public areas have fresh air circulation.
Crystal's award-winning Rhine-class ships can accommodate only 106 passengers and are the first and only ships in the river cruise industry to be fully equipped with balconies, suites and butler in Europe, with every accommodation category positioned above the waterline. All suites have Panoramic ™ balconies and walk-in closets, and double sinks in the bathrooms are featured in most categories.
The sister ship Crystal Mozart is the most spacious river vessel in Europe, twice the width of another and carrying only 120 passengers. Known as the 'Queen of the Danube', Crystal Mozart offers an unparalleled number of social spaces, restaurants and the largest spa on the rivers.
Recognized as the world's most luxurious river cruise company ™, Crystal River Cruises sets itself apart with unparalleled service, with twice the crew per guest than the industry average, butler service in every room category , king-size beds, Caudalie amenities, bathrobes and slippers, wall-mounted flat-screen HDTVs, and 24-hour room service. Crystal River Cruises' unparalleled farm-to-table dining experience features Michelin-level cuisine at several open restaurants: the elegant Waterside Restaurant, the namesake Bistro cafes and the exclusive Vintage Room; as well as the Palm Court for entertainment, enriching presentations and panoramic countryside views. Crystal's attention to detail reaches dry land, as guests are transported through adventures in luxury coaches equipped with free water and Wi-Fi for added convenience and comfort, and carrying 30 % fewer coaches of the same size.
Each Crystal River trip invites guests to explore destinations in ways most meaningful to them, with a collection of Crystal Destination Findings tailored to specific interests. Most are free, while others offer more extravagant experiences, focusing on the culinary, cultural, uplifting and personal sides of each place.