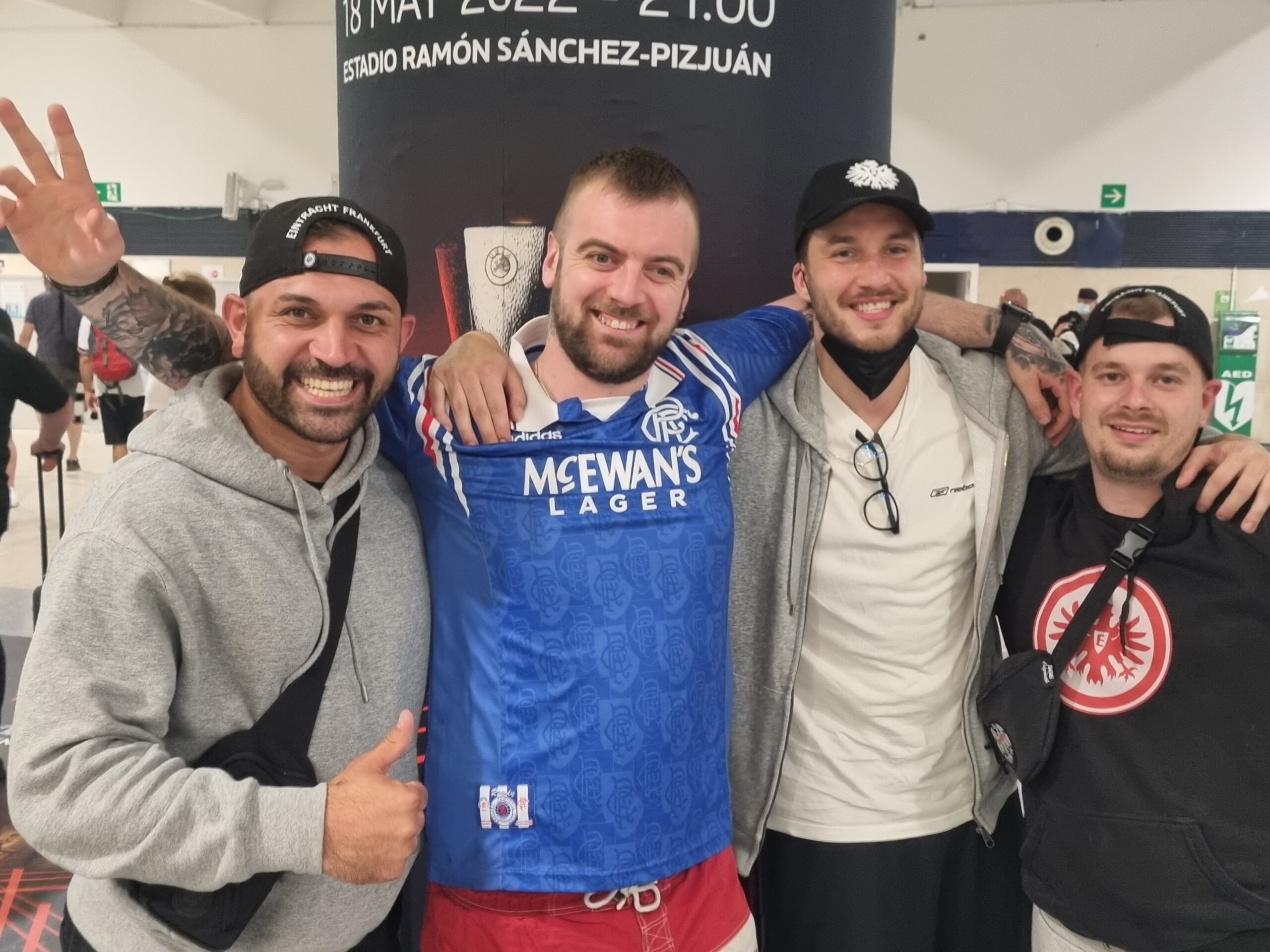 Boats, trains and planes – Rangers fans travel from Shetland to Seville
FOR a Shetland Rangers fan, it's a matter of taking the boat, then a train, followed by a tram, a plane, another train – then another plane – and finally a car to reach the Spanish city of Seville .
It will be worth it for Peter Kerr as he is in possession of a gold dusting match ticket to be in the stadium to watch his football team in the Europa League final tonight (Wednesday).
Reported figures suggest around 100,000 Rangers fans could descend on the Spanish city of Sevilla for the final – despite reports suggesting there will only be around 20,000 at the stadium.
It's a huge night for the Glasgow club – they last won European trophies 50 years ago – and if Rangers beat Eintracht Frankfurt the history books will be rewritten in what many will consider a victory unique.
Rangers saw off football heavyweights like Borussia Dortmund on their way to the final, while Frankfurt knocked out Barcelona.
A small number of Shetland fans travel thousands of miles to Seville to sample the atmosphere – with or without a ticket.
Meanwhile, Shetland Police said they would undertake additional patrols as people watched the game in pubs.
Kerr – who has followed his team for decades – is one of the lucky ones who, thanks to a subscription to the Ibrox stadium from Rangers, managed to qualify for the game.
With travel and accommodation quickly taken care of by Rangers fans – in some cases even before their place in the final is secured – some people have to travel to Sevilla in rather innovative ways.
Kerr left Shetland on the NorthLink boat on Monday evening before taking a train to Edinburgh.
He flew to London City Airport, before heading to Heathrow, then flying to Madrid, where he spent the night.
Today's trip involves driving a rental car to Seville, which can take around five hours.
Kerr has kept his season ticket despite living in Shetland for 15 years, making him a prime candidate for Europa League tickets.
He has a story – he also had a ticket to when Rangers also upset the chances of reaching the final of the competition in 2008, which the team lost.
When asked how he would feel if Rangers won this time around, he replied: "It's funny – I'm just happy to be here. I never thought I would reach another European final, so the fact that we are here is amazing.
"Obviously you want to win, but just getting here, and the opportunity and everything, it's fantastic."
However, not everyone is as lucky as Kerr when it comes to getting a ticket.
Darren Adamson, from Scalloway, arrived in the Spanish city on Tuesday without a ticket.
He hopes that he could, just in case, take a ticket sold before the match.
Alternatively, at kick-off time, he will travel to another stadium in the city – with a capacity of around 60,000 – which is being opened to host a live screening of the match only for Rangers fans without tickets.
His trip was to fly to Aberdeen on Monday morning before flying to Gatwick.
Adamson – whose father is also leaving, but via a different route – then flew to Bilbao – before hopping on another plane to Seville.
"Watch the semi-final [on 5 May]I decided before half-time if Rangers won I would go to Sevilla," he said.
"I asked a few people if they were up for it but there were no takers so as soon as the final whistle blew I started trying to book flights and accommodation but it all went away and eventually , almost two hours later, I had booked flights."
Adamson said even without a game ticket it felt like an "opportunity I couldn't miss" – as there is real belief Rangers could get a historic result on Wednesday.
"Being part of the celebrations and saying you were there would stay with you forever…if we won and I hadn't been there, I would regret it forever."
The Plumber added that with the financial chasm between leagues in Europe, a victory for Rangers would be the "greatest achievement in Scottish football".
Become a supporter of Shetland News
Shetland News asks its many readers to consider starting to pay for their dose of the latest local news delivered directly to their PC, tablet or mobile phone.
Journalism has a price and because that price is not being paid in today's rapidly changing world of media, most publishers – national and local – are struggling financially despite very healthy audience figures.
Most online publishers have started charging for access to their websites, others have gone a different route. Shetland News currently has more than 540 supporters all of which make small voluntary financial contributions. All funds are used to cover our costs and to further improve the service.
Your contribution will ensure Shetland News can: –
Bring you the headlines as they happen;
Stay editorially independent;
Giving a voice to the community;
Increase site traffic further;
Research and post more in-depth news, including more Shetland Lives features.
If you enjoy what we do and value unbiased local journalism, then become a supporter of Shetland News by making either a one-time payment or a monthly subscription.
Support us from just £3 a month – signing up only takes a minute. Thank you.
Already support? Login to hide this message.