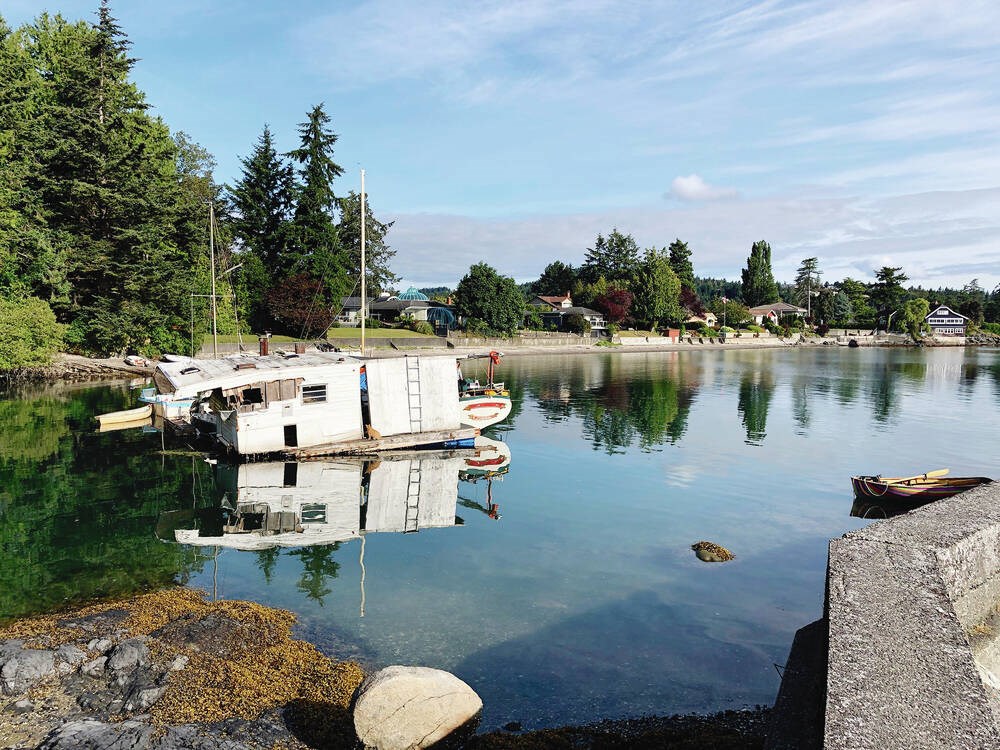 Abandoned boats pulled from North Saanich Bay
The last three derelict living aboard vessels have been towed from the waters off Lillian Hoffar Park in North Saanich, a year after the occupants were asked to leave.
A man and woman who lived on the ships are now housed in long-term care facilities in the area, according to the municipality, which worked with Beacon Community Services and the Ministry of Social Development and Poverty Reduction to find them accommodation.
The boats have been removed for the past few weeks, with the last boat removed March 24 by Cold Water Divers Inc., working for the District of North Saanich.
The company then removed the old pilings and a float to which the boats and other objects had been tied.
Abandoned ships in the bay off the park on McDonald Park Rd. have been a problem for about five years in North Saanich. Many residents have complained to the district about ships and structures living on board being moved to the small bay. Skiffs and dinghies had also been tied to the park's foreshore at high tide.
Neighbors were upset to find trash on the beach and in the park.
Over three decades ago, North Saanich received the Lillian Hoffar Park land as a gift from the Campbell/Hoffar family. The property originally housed a boat building and repair business.
In addition to abandoned vessels, the municipality has had to deal with small boats abandoned above the tide line. At one point there was also an RV trailer sitting on a barge moored to the old pilings.
The District took the position that the long-term presence of vessels above the tide line constituted foreshore trespass and was contrary to the terms of the lease and foreshore zoning on the property.
Signs were installed at the end of 2020 on the beach at Lillian Hoffar Park indicating that the mooring of boats for more than 24 hours was prohibited.
In March 2021, the district issued the cruise ships with a notice to move by April 28, 2021.
But that never happened for the last three boats. The district said it tries to be sensitive to the needs of the two people living on board the ships, "taking a measured and people-centred approach".
Last month, the ship's residents agreed to have their boats taken out of the water.
Beacon Community Services has arranged temporary accommodation for the two, who were transferred to ministry care last month and are now living in long-term accommodation.
A week ago, the district helped the occupants recover their personal belongings, which had been rescued from the ships and structures.
Concerns about derelict and derelict vessels on the coasts of British Columbia have been raised for many years due to the potential dangers to boaters and pollution of the marine environment.
Last year, the province spent $9.5 million to free approximately 100 derelict vessels and clean up 1,200 kilometers of shoreline.