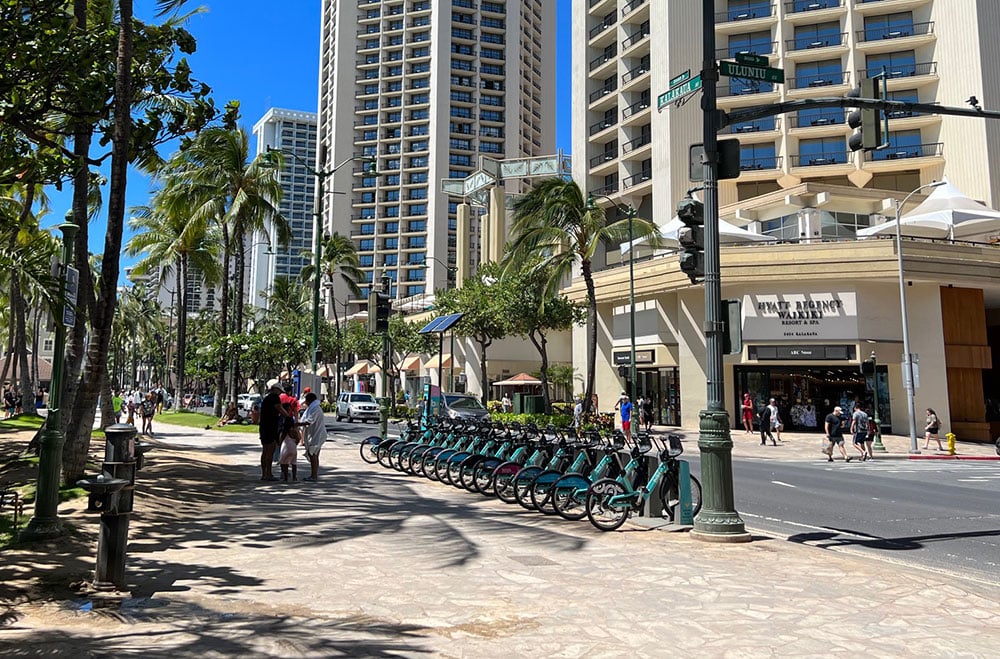 2 Awesome Bike Routes in Honolulu
Go on a bike ride through Waikīkī and discover the city's historical sites.
OWe love our neighborhood Biki stations. And it's not just because they offer a greener way to get from here to there in Honolulu – sometimes there's no nicer way to see the city than by gliding through bike. Our favorite places to ride are shaded and flat, part of the city's cycling infrastructure in neighborhoods with lots to see, where the mobility of an easy-to-maneuver two-wheeler beats a cumbersome everyday car. Did we mention this is one of our favorite things to do with visiting friends and family? Here are some of our favorite DIY Biki "tours" that let you get out and interact with the city, in a fun way.
Waikiki by the water
Start at station 328 right next to the Duke Kahanamoku statue, where the stretch of hotels on Kalākaua Avenue opens up to reveal ocean views. From there, the dedicated bike path will take you on a beautiful ride along the famous and bustling Waikīkī coastline. Follow it all the way east to the end of Kalākaua, passing the grassy areas of San Souci Waterfront Park until you come to Waikīkī Aquarium and Biki 518 Station. Moor here, visit the aquarium or grab a quick bite at the excellent Barefoot Beach Café. Then go back on your way, this time taking a right on Kapahulu Avenue. A few streets up, you'll want to snag that left onto Ala Wai Boulevard for another different waterfront experience along the canal. This route also has a dedicated cycle path along the footpath. Across the water, you'll see the verdant fields of Ala Wai Golf Course and the Ko'olau Range beyond, and watch canoe paddlers practicing their shots in the canal waters. Follow Ala Wai Boulevard to the end, where you'll reach Biki 300 station. Moor here, then walk to Prince Waikīkī, where you can treat yourself to sunset cocktails and great marina views on the roof of the Hinana Bar hotel.
Historic Honolulu
Start at Biki 402 station near Thomas Square. See the Restoration of Sovereignty Day monument commemorating the end of the five-month occupation of Hawai'i in 1843 by a rogue British captain, before heading downtown on King's Protected Bike Path Street. Admire the brutalist Frank Fasi Municipal Building and shaded tree-lined paths (perfect for biking), which lead you past Isamu Noguchi's enigmatic Sky Gate, Aloha Freedom Bell, Nagasaki Bell, and Hawaii Law Enforcement Monument. Take a moment to ride your bike past Honolulu Hale and visit the 9/11 Eternal Flame monument. Cross at the crosswalk to the boulevard that connects the unique architectural dichotomy of the State Capitol and 'Iolani Palace, passing the statue of Queen Lili'uokalani on the way. Turn left onto Richards Street to circle around the Palace, then left again onto King Street to pass the majestic statue of King Kamehameha just before turning right onto Punchbowl Street, ending at Biki 125 station just opposite Kawaiaha'o Historic Church and Cemetery.